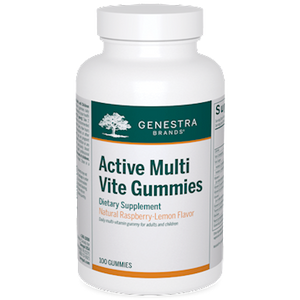 Active Multi Vite Gummies
Daily multi-vitamin gummy for adults and children
Great-tasting multivitamin gummy enhanced with an organic fruit blend
• Offers a concentrated combination of 14 vitamins and 3 minerals, plus choline and an organic fruit blend
• Provides active vitamins forms, including Metafolin® L-5-methyltetrahydrofolate and methylcobalamin
• Vegetarian pectin base; free from gelatin, as well as artificial colors and flavors
• Low in sugar, with only 0.5 g per gummy; sweetened naturally and with low-glycemic isomalto-oligosaccharides
• Delicious raspberry-lemonade flavor
• Ideal for the entire family
Active Multi Vite Gummies provide a concentrated combination of 17 vitamins and minerals in a great-tasting format, enhanced with choline and an organic fruit blend. Many Americans do not consume adequate amounts of essential vitamins and minerals. This formula is packed with high levels of nutrients to help promote optimal nutritional status, including two forms of vitamin A, all eight B vitamins, antioxidant vitamins C and E, bone-supporting vitamins D and K, and the minerals zinc, iodine and chromium.
Collectively, this formula promotes immune function, antioxidant defense, energy and healthy glucose metabolism, strong bones and teeth, eyesight and night vision, and healthy hair, skin and nails. Choline is also included to provide valuable support to the liver. Additionally, each berry-shaped gummy contains only 0.5 g of sugar from natural sweeteners and isomalto-oligosaccharides, a low-glycemic plant-based prebiotic fiber naturally found in fermented foods and honey. Free of gelatin as well as artificial colors and flavors, Active Multi Vite Gummies provide a convenient and delicious way of increasing the daily intake of bioavailable vitamins and minerals in adults and children 2 years and older.
Servings Per Container:
25
Amount Per Serving
 Daily Value
Includes 2 g Added Sugars
Vitamin A (as vitamin A palmitate/60% beta-carotene)
750 mcg
83%
Vitamin A (as vitamin A palmitate/60% beta-carotene)
Vitamin C (as ascorbic acid)
80 mg
89%
Vitamin D3 (as cholecalciferol) (1000 IU)
25 mcg
125%
Vitamin E (as d-alpha tocopheryl acetate)
10 mg
67%
Vitamin K1 (as phylloquinone)
120 mcg
100%
Thiamin (as thiamin mononitrate)
1.5 mg
125%
Niacin (as niacinamide)
11 mg
69%
Vitamin B6 (as pyridoxine hydrochloride)
5 mg
294%
Folate (as Metafolin®, L-5-MTHF) DFE (240 mcg L-5-MTHF)
400 mcg
Vitamin B12 (as methylcobalamin)
100 mcg
4167%
Pantothenic Acid (as calcium d-pantothenate)
5 mg
100%
Choline (as choline bitartrate)
30 mg
5%
Iodine (as potassium iodide)
112 mcg
75%
Zinc (as zinc citrate)
9 mg
82%
Chromium (as chromium picolinate)
50 mcg
143%
Organic fruit blend:
100 mg
Other Ingredients:
Isomaltooligosaccharides, cane sugar, pectin, natural flavors, apple puree, citric acid, sodium citrate, purified water, natural black carrot color, stevia leaf extract, vegetarian coating:, organic sunflower oil, carnauba wax, medium chain triglycerides, hypromellose, glycerin
Suggested Use:
Adults and Children (4 years and older): Take 4 gummies daily with a meal or as recommended by your health professional.
Children (2-3 years): Take 2 gummies daily with a meal or as recommended by your health professional.
Take a few hours before or after taking medications or other supplements.