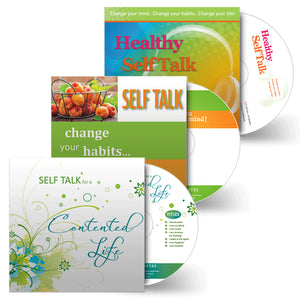 3-Pack Healthy Self-Talk
Regular price
$25.00
Sale price
$17.50
---
CHANGING YOUR HABITS IS AN INSIDE JOB!

Knowing "what" to do is not enough - you need to know "how" to get yourself to practice healthy habits consistently. All significant and lasting change comes first when you are transformed by the renewing of your mind (Romans 12:2). This is a fundamental truth and it applies to weight loss and living healthfully as well. You are what you think and your thinking drives your behavior. 
Self-talk is simply statements of truth you want to believe, said as if you already believe them. For example, "I enjoy exercise and I love the way it makes me feel!" You may not believe this yet, but it is a healthy message to give yourself. Thousands of our clients have expressed that using our healthy self-talk resources have been on of the most powerful tools they discovered for changing from the inside out. 
All our self-talk recordings are grounded in biblical truth and set to music. We recommend you listen to one or more segments at least twice each day for the next six to months or longer. Our minds don't change overnight! But with repeated positive input, you can change your thinking and find lasting lifestyle victory.
Our Healthy Self-Talk Value Pack includes the titles detailed below:
1. EAT LIVE THRIVE DIET SELF-TALK
Designed to guide you through the three phases of the Eat Live Thrive Diet, this healthy self-talk recording provides impactful statements and scripture that will help you change your mindset when repeated frequently. Listen two to three times per day to the tracks which resonate with your place in the diet and your challenging thoughts. Continue this practice for as long as it takes for the new messages to take root and you begin to discover your feelings and actions are changing as if you have a new "automatic pilot".
Track 1:  Introduction
Track 2:  A Spiritual Foundation for a Healthy Body
Track 3:  Getting Started
Track 4:  Elimination Phase
Track 5:  Perspectives on Level 3 Gentle Detoxification
2. CHANGE YOUR HABITS...BY RENEWING YOUR MIND!
Based on Danna's book, Change Your Habits, Change Your Life, this self-talk CD incorporates many of the scriptures and concepts found in the book and is recorded in a first-person, prayer-like fashion. This helps the listener train her brain to pray without ceasing and renew her mind in a God-centered way. 
3.  HEALTHY SELF TALK FOR YOUR LIFESTYLE 
God's Prescription for a Healthy Mind
"Whatever is true, whatever is noble, whatever is right, whatever is pure, whatever is lovely, whatever is admirable, if anything is excellent or praiseworthy, think about such things." —Philippians 4:8
Titles include: Renewed Mind…Transformed Body • Healthy Minds…Healthy Bodies • Fit Minds…Fit Bodies • Living in Balance.